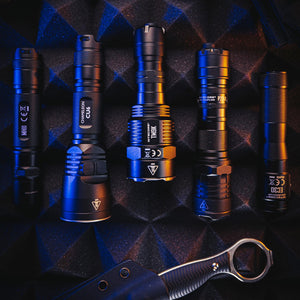 Exclusively for Nitecore Singapore Clients
Get 30% OFF the latest lights when you trade in your old Nitecore
3 Steps To A Successful Trade-In:
1. Check for Serial & Eligibility
All trade-in lights must be:
- Nitecore branded with clearly visible serial number (If your light has no serial number, it cannot be traded in)
- Purchased from us before 31st December 2020 and older.
If you're unsure on whether your light eligible, do contact us to run a check for you.
2. Send it In
Include your Name, Email and Contact number with your old light and mail it in using a trackable courier service to this address:
Nitecore Singapore, 5008 Ang Mo Kio Avenue 5, Techplace II, #04-09/16, Singapore 569874.
+65 8815 5804
3. Choose your new Nitecore
Once you receive the 30% Trade-In coupon code via email, order the light of choice from the trade-in collection below and check out with the code. That's it!
The trade-in program runs until 8 July 2022.​ Limited to 5 trade-ins per customer.
There will be no returns / refunds for unused coupons after the promotion has ended.
No, as long as it has a visible serial number on it and it's from Nitecore, you can trade it in to claim your 30% coupon code.
No, the trade-in is only applicable for Nitecore lights with serial numbers on them, not for any other brands.
Coupon codes cannot be combined. You get one code per light traded in.
Coupon code(s) cannot be used in conjunction with other offers and promotions.​ It can only be used on items in the Trade-In Collection.
Coupon code(s) cannot be exchanged for cash.
Yes, standard 3 year warranty starts on the date of purchase for the new lights.
No, there is no return / refund policy for trade-in purchases.
Nitecore Singapore Pte Ltd is not liable for any loss parcels should any go missing if items are sent in to us.
Remember to use a trackable courier service to reduce chances of loss.
Terms & Conditions
In the event we receive any products without proper contact / required information or lights that do not meet the promotional requirements (as mentioned in steps 1 & 2), we reserve the right to dispose the lights at our discretion.
Nitecore Singapore Pte Ltd reserves the right to change these terms and conditions at any time without prior notice and at its sole discretion. ​